Healthier Peanut Butter Banana Chocolate Chip Oatmeal Cookies
—
There are some days when I want to enjoy sugary treats, but without the guilt. These cookies a healthier way to satisfy that sweet tooth, but with just as much flavor!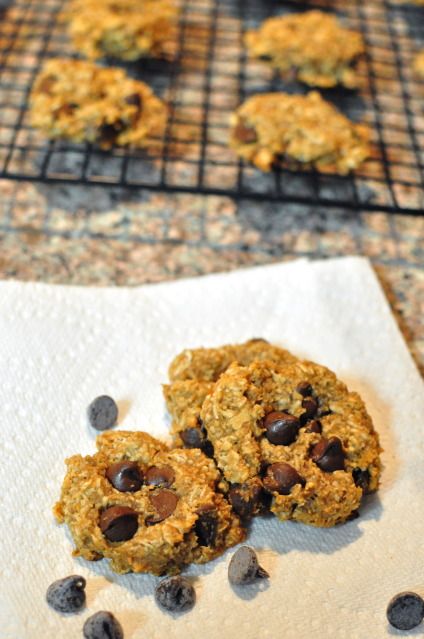 These cookies are soft and chewy and with just the right amount of sweetness. You will love the peanut butter and banana flavors combined with the chunks of chocolate in these cookies! 
Healthier Peanut Butter Banana Chocolate Chip Oatmeal Cookies
1/2 cup peanut butter
1/2 cup brown sugar
2 cups quick cooking oatmeal
1/2 cup mashed banana
3/4 cup chocolate chips
1/2 cup plain greek yogurt 
—
Preheat the oven to 350 degrees F. Grease and line a large baking sheet.
In a bowl, combine the peanut butter, brown sugar, oatmeal, mashed bananas, chocolate chips, and yogurt. Stir until a dough forms. Scoop dough onto the baking sheet by the heaping tablespoonful. I like to use a medium ice cream scoop. Press down the dough to flatten. The dough will not spread much in the oven.
Bake at 350 degrees for about 8 to 10 minutes. Cool and enjoy!
Makes 1 1/2 dozen large cookies.
Nutrition Facts
Per Cookie:
Calories: 150
Fat: 6g
Carbohydrates: 23g
Protein: 4g
4 Notes/ Hide
pradaispower reblogged this from mytastyaddiction